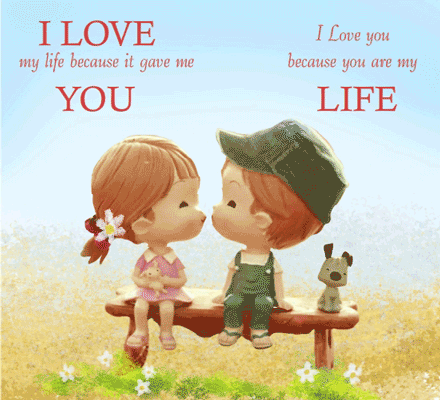 –Its Love, when a little girl lovingly opens the door with a welcome smile and a glass of water to her dad when he comes home all tired from a hard day's work.  He feels so happy to be having a caring daughter.
–Its Love, when a wife makes a warm cup of tea for her husband and takes a sip before him.  She wants to make doubly sure that the tea is the way he likes, showing so much care and love for his needs.
–Its Love, when a mother gives her son the best piece of a chocolate cake which he loves.  She would go out of her way to see that he gets the best, as her only concern is to see happiness on his face no matter what.  Her heart is overflowing with love for her child.
–Its Love, when the destitute people are taken care of by a kind-hearted person and to see tears of joy rolling down their eyes.  They know that there are good souls out there who have come to take care of them and show them their compassion.
–Its Love, when your heart is skipping a beat for the one you love and he reciprocates the same so lovingly saying sweet nothings in your ears that are meant only for the two of you.  The Heart beats faster singing songs of love the whole day through.
–Its Love, when your big brother messages you and asks tenderly "dear Sis, did you reach home on time."  He wants to show his concern for his little sister's safety and she feels so nice.
–Its Love, when your friend holds your hand tightly on a slippery road and he would not allow you to fall at all. He is wanting to be very protective towards her. Their love surely grows stronger day by day.
-Its Love, when the elderly are taken care of by the family and the society that they live in. They feel so protected and well taken care of by their children. They do not feel neglected but feel so much Love that is showered on them.
Its Love All the Way when you see others with Love and Tenderness. Let us all Love Each Other and find happiness and joy in Giving and being Selfless towards One and All.
REAL HAPPINESS LIES IN MAKING OTHERS HAPPY……………